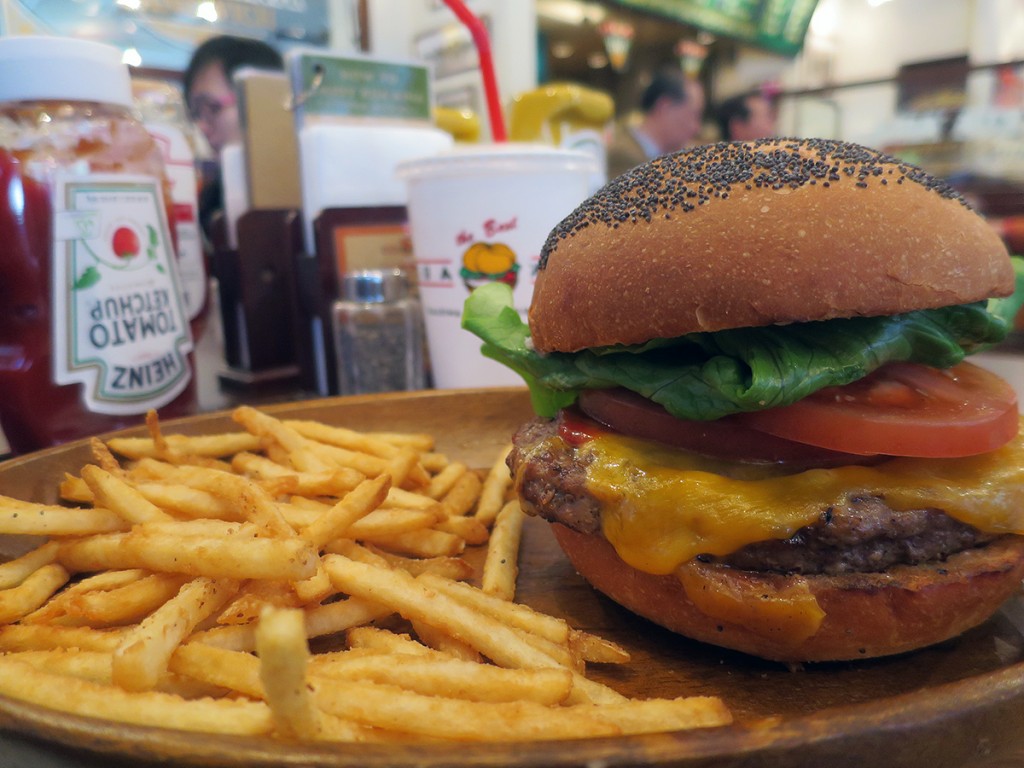 Aloha! Welcome to Hawaii!
Kua Aina literally means a person from the "back country" and you can see that they try to recreate this "authenticity". With their wooden floor, tropical ceiling fans, surfboards and smiling staff, you feel as if you were on holiday. If you look carefully you might also spot a picture hanging on the wall of president Obama enjoying a lunch. Kua Aina is famously one of his favorite burger hangouts.
About the burgers now. They're good and of good quality. They're classic but, again, feel authentic. Apart from the basic hamburger and cheeseburger, you can order a bacon burger, avocado burger or a pineapple burger. Each comes in two sizes: 1/3 or 1/2 pound. Kua Aina also serves several kinds of sandwiches like their marinated grilled chicken sandwich and some good salads.
Note that the fries, thin and crispy, are excellent.
Besides their 2 originial restaurants in Hawaii, Kua Aina has 21 outlets throughout Japan and 9 in Tokyo alone (see below). They're also expanding abroad with a first restaurant in London. Kua Aina is a sure bet for anyone who wants to enjoy a good burger in a nice décor.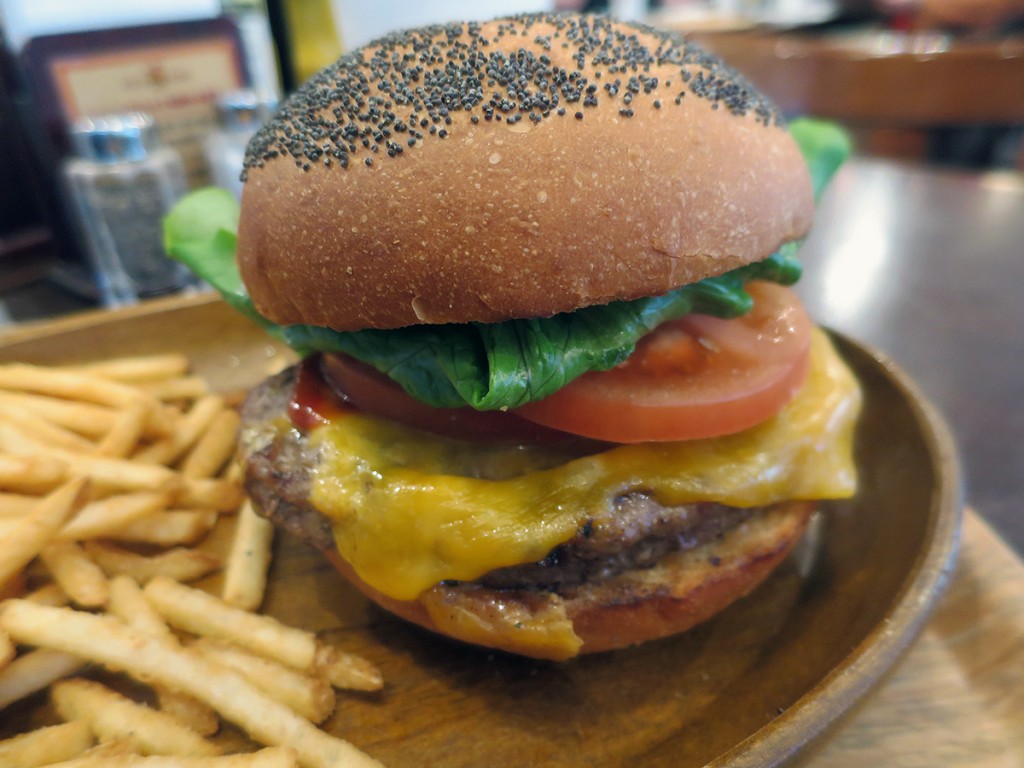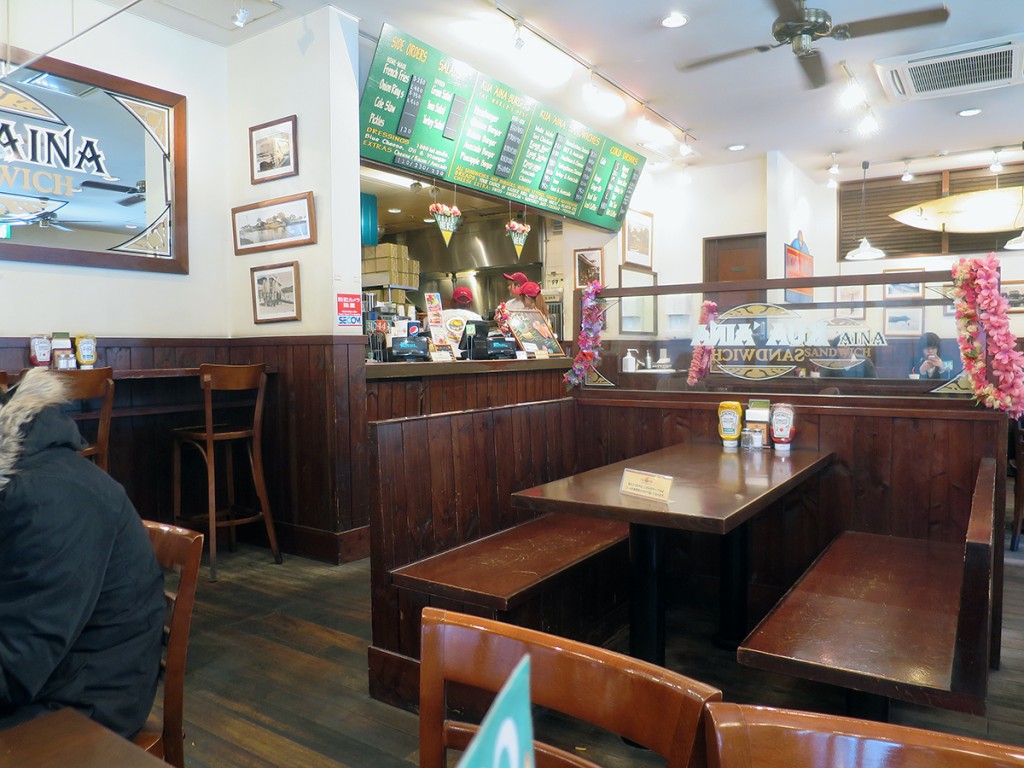 Website: www.kua-aina.com
Kua Aina Ikebukuro:
Address in English: Tokyo-to Toyoshima-ku Higashi Ikebukuro 3-1
Address in Japanese: 豊島区東池袋3-1 サンシャインシティ内アルパ B1F

豊島区東池袋3-1 サンシャインシティ内アルパ B1F
Kua Aina Sky Tree:
Address in English: Tokyo-to Sumida-ku Oshiage 1-2
Address in Japanese: 東京都墨田区押上一丁目1-2 東京スカイツリータウン・ ソラマチ1F 区画E0115

東京都墨田区押上一丁目1-2 東京スカイツリータウン・ ソラマチ1F 区画E0115
Kua Aina Futako Tamagawa:
Address in English: Tokyo-to Setagaya-ku Tamagawa 2-13-1
Address in Japanese: 東京都世田谷区玉川2-23-1 FUTAKO TAMAGAWA rise Dogwood Plaza 7F

東京都世田谷区玉川2-23-1 FUTAKO TAMAGAWA rise Dogwood Plaza 7F
Kua Aina Futako Odaiba:
Address in English: Tokyo-to Minato-ku Odaiba 1-7-1
Address in Japanese: 東京都港区台場1-7-1アクアシティお台場4F

Kua Aina Tokyo Marubiru:
Address in English: Tokyo-to Chiyoda-ku Marunouchi 2-4-1
Address in Japanese: 東京都千代田区丸の内 2-4-1 丸の内ビルディング5F

東京都千代田区丸の内 2-4-1 丸の内ビルディング5F<br />
Kua Aina Kanda:
Address in English: Tokyo-to Chiyoda-ku Kanda Surugadai 3-5
Address in Japanese: 東京都千代田区神田駿河台3-5荒井ビル1F

Kua Aina Gotanda:
Address in English: Tokyo-to Shinagawa-ku Nishi Gotanda 1-26-7
Address in Japanese: 東京都品川区西五反田1-26-7カノウビル1F

Kua Aina Shibuya:
Address in English: Tokyo-to Shibuya-ku Shibuya 1-10-4
Address in Japanese: 東京都渋谷区渋谷1-10-4メゾン・ド・ユー1F

Kua Aina Aoyama:
Address in English: Tokyo-to Minato-ku Minami Aoyama 5-10-21
Address in Japanese: 東京都港区南青山5-10-21